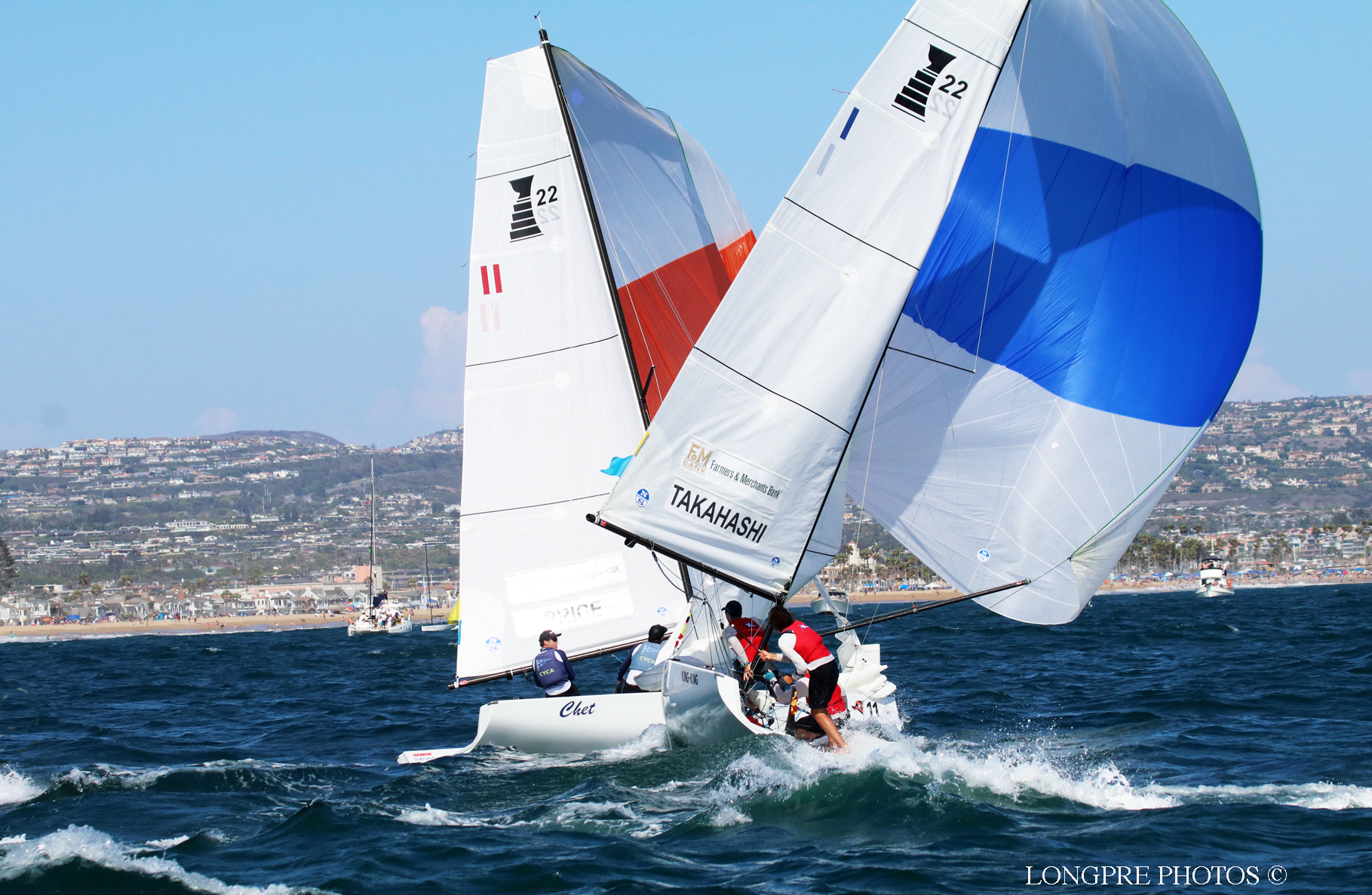 NBSSA and The Governors Cup
California Governor (later US President) Ronald Reagan granted the Deed of Gift for the Governor's Cup to Balboa Yacht Club in 1967 "for the purpose of encouraging Youth Racing in the State of California and the recognition of the skill and high performance of those men and women under twenty years of age…" As an invitation only match racing regatta, the Governor's Cup was established by the late Chet and Glee Purcell. Mr. and Mrs. Purcell had a vision that a national match racing competition should be created for younger sailors, similar in format to the internationally recognized Congressional Cup Regatta.
The Governor's Cup has been sailed in a number of different boats in its 53 years including the Cal 25s (shown above left) for the initial regattas, followed by Santana 20s (middle left) for many years after that. In 2003, Balboa Yacht Club debuted the "Governor's Cup 21s" (below left) which
were purpose-built for the regatta and Newport weather conditions and they served well for 13 years. To celebrate the 50th Anniversary regatta in 2016, BYC members—along with some help from "friends" of the GovCup—again raised funds in support of the Newport Balboa Sailing & Seamanship Association (NBSSA), which then built 12 new "GovCup 22s" which will be provided to the competitors for many years to come.

As the years progressed, the Governor's Cup grew in popularity with its first international team participating in 1989. Since then teams from the United Kingdom, New Zealand, Australia, Brazil, Finland and Spain have participated and become regular entrants and often multiple winners. The Cup has served as a gateway for future champions in collegiate competition, the Olympics, Congressional Cup, Swedish Match Tour and numerous America's Cups.
The Governor's Cup has a special relationship with the America's Cup with the latter having visited Balboa Yacht Club during "Gov Cup Week" twice in recent years. Norbert Bajurin, Commodore of the current holder of the America's Cup, said it best, "The Governor's Cup is the America's Cup for youth." Truer words were never spoken. BYC can be very proud of this illustrious history and its alumni from fourteen countries and territories around the world. When you watch this and every year's Governor's Cup, you are seeing some of the future stars of the sport.


The new boats feature a modern, high aspect ratio, 'T' keel, hiking straps in an open cockpit for easy sail handling, and were specifically designed to be sailed by either three or four sailors. Competitors will find them typical
of modern, "state of the art" design with high aspect ratio foils that require attention to boat speed in addition to match racing tactics.